Well who says he's gone away? I took this picture on Christmas day after we got done opening all the presents under the tree! The picture is not that great cuz I was taking it thru the window so as not to scare the bird away! There were actually 2 of them, but the other picture didn't turn out.
He was beautiful! Vibrant blue and black and turquoise in color. My 11 month old had a ball just watching him! They have actually been around all winter! And I still see them every now and then!

And of course I have to add a photo of some of the peeps in my family! On Christmas eve, Big R brought home a "little" something for the baby! She loves soft things, i.e. her blankie, her "babies" and stuffed animals, the sheep skin rug on the living room floor, the huge elk hanging on the wall. And now of course she loves the big "Teddy Bear" that Daddy brought home to her!
She sits on it, lays on it with her bottle, rubs the hair between her fingers, puts her face on it's face and rubs it. This thing scares the crap out of me, and she loves it to death. NOTICE the pink blankie thrown carelessly to the floor? She didn't want it all night long, just wanted to sit on that dang bear!
BTW....The bear IS real! Big R shot and killed this oversized "Teddy Bear" about 2 and half years ago!
To see other great Photo Stories Head on over to: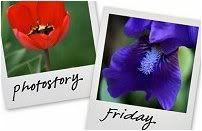 PhotoStory Friday" border="0">
Hosted by Cecily and MamaGeek